Discoveryland | Disneyland
®

Park

 

To the future from the past...and beyond! Travel through time and space, toward the vast outer reaches of Discoveryland.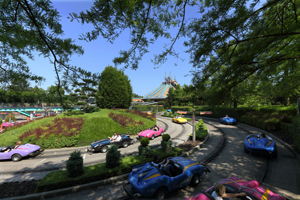 Take the wheel of a futuristic car, as envisaged by inventors in the 1950's, and accelerate your way along a winding, picturesque route.

 Fun for little ones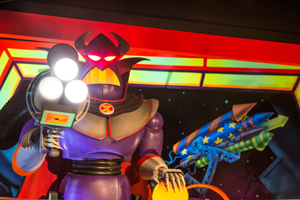 Buzz Lightyear Laser Blast
Evil Emperor Zurg is stealing batteries from helpless toys to power a new weapon of destruction - and Buzz Lightyear needs your help! As a Junior Space Ranger, it's up to you to manoeuvre an XP-40 space cruiser and fire lasers from an onboard cannon to stop Zurg and score points. 

 Family adventure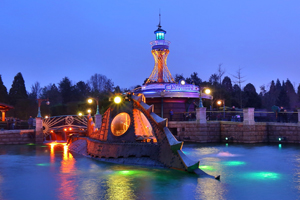 Dive into the imagination of Jules Verne and board Captain Nemo's historic submarine. As you wander the corridors you'll discover some seafaring secrets. But don't let the calm waters of 20,000 Leagues Under the Sea fool you, as danger lurks beneath the murky surface. 

 Family adventure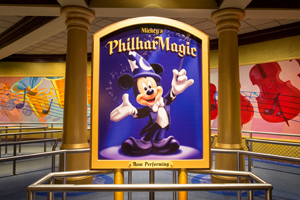 Disney magic meets Disney music in this spectacular 4D fantasy adventure in Discoveryland Theatre. Join Donald Duck on a whirlwind tour of some of the most memorable songs in Disney animation history, including 'Be Out Guest' from Beauty and the Beast and 'Part of Your World' from The Little Mermaid.

 Family adventure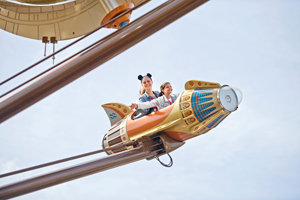 Get ready to rocket through the farthest reaches of space in this retro Orbitron ride. It's fast, it's futuristic and you're the captain, as you control the height of your vessel whilst it whizzes around a galaxy of planets high above the sights and sounds of Discoveryland.

 Family adventure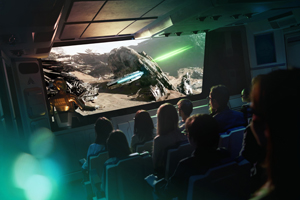 Star Tours: The Adventures Continue
Rebels of all ages will board a Starspeeder 1000 and take off on a thrilling 3D voyage to stunning star systems and war-torn worlds, from Jakku and Hoth to Tatooine and even the dreaded Death Star. With state-of-the-art technology and over 60 mission combinations, this is an experience sure to thrill the most devout Jedi in the galaxy.

 Big thrills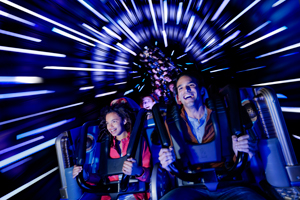 Star Wars Hyperspace Mountain
Launch yourself into Star Wars Hyperspace Mountain for a thrilling takeover of a classic space attraction. Enlist in the Rebel Alliance and attend a briefing from Admiral Ackbar. Your mission - to pilot a reconnaissance vessel and spy on an Imperial Star Destroyer.

 Big thrills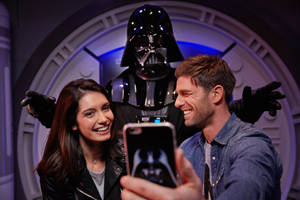 Check in at the Starport for a truly unforgettable encounter with a Star Wars character. Get your best side ready for the dark side because Darth Vader patrols these parts on a regular basis. But have no fear. When the Dark Lord of the Sith is away on Empire business, another giant of the Star Wars saga is never far, far away. 

 Character encounter 

For more information call us on 0330 880 5012.
©Disney
© & ™ Lucasfilm Ltd